Hola! Ceci here from Santa Fe, New Mexico/Cameroon.
I grew up in Cameroon in a small town called Buea. It was the capital of former West Cameroon which was at the time ruled by the Germans and then later the British and the French. Buea is a very refreshing climate with the beautiful Mount Cameroon mountain looking down on the town and the people. My maternal grandmother (affectionately and admirably referred to by her praise name, Mami Ncha), raised me. Whenever she was not at the farm or at the market, she was in the kitchen cooking. I watched her every move and always wanted to help. She would give me the chore of getting the spices and ingredients ready for the food she was going to cook. As I grew older, I would often have the food ready by the time she returned from the farm or the market where she would sometimes sell her produce. It made me happy because she was so impressed. By observing and helping Mami Ncha in the kitchen as much as I could, I developed a true passion for cooking. I so enjoy cooking and having friends over. I take great pleasure in introducing Cameroonian cuisine here in Santa Fe, New Mexico. It is my hope that my blog and upcoming cookbook will help spread the word about the good tastes of African cuisine as well as many other ethnic food favorites around the world.
I have been proud to call the Land of Enchantment home for over 25 years. I enjoy cooking and sharing the experience with friends, family and my community. I taught African Cuisine at the Santa Fe Community College for over seven years, cooked with kids in the Santa Fe Public schools; vend food at the International Folk Market for over 10 years, as well as catering and cooking classes. I have a passion for cooking and I'm looking forward sharing old recipes as well as creating new ones.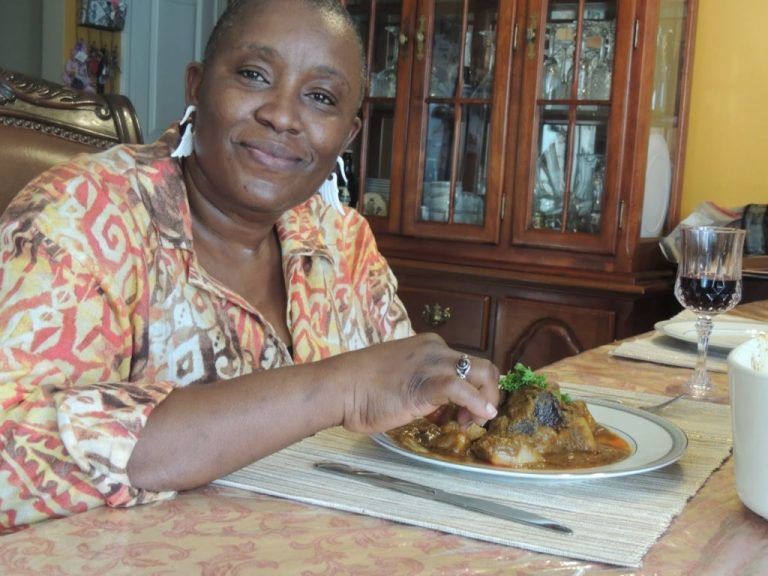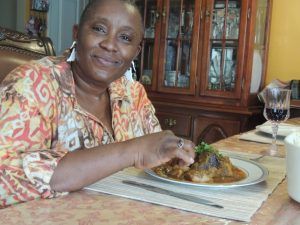 Growing up in Cameron, my family made its livelihood mostly from farming. My grandmother had several farms where we grew crops like plantains, bananas, coco yams, potatoes, groundnuts and wide variety of vegetables. We also grew fruits such as guava, papaya, avocado, pineapple, mangoes, plums etc. I experienced all these different seeds start out as seeds to meals on the table.
I grew up learning to cook by watching my grandmother cook. I spent several hours with her in the kitchen assisting and observing her cook. My main task during those early years was to prep the ingredients she needed for cooking. I was thrilled whenever I was asked to add any of the ingredients into the pot, I felt like I was really cooking. As I grew older my love and passion for cooking grew.
Cameroon,
with its jagged coastline along the Atlantic Ocean, is often recognized for its varied terrain of mountain chains and rain forest plateaus extending from Mount Cameroon almost to Lake Chad at the northern tip of the country. Bordering Nigeria to the northwest and the Gulf of Guinea to the south, natives and tourists alike enjoy an array of traditional African food dishes in the inland capital city of Yaounde; beach resort towns like
Kribi
; the largest city/seaport, Douala; and the popular ecotourism site of Limbe where rescued primates are housed in a Wildlife Centre.
Like many other African states, food staples found in Cameroonian dishes came from New World (the Americas) explorers and from the Portuguese who arrived in the country in 1472. They brought with them such foods as cassava (a root vegetable); maize (corn); tomatoes; and hot peppers. Depending on the climate and what is grown locally, food dishes evolved and now vary in cooking techniques and staple ingredients such as plantains, yams, and spicy (often very hot sauces); and fruits (especially mangoes) – from region to region.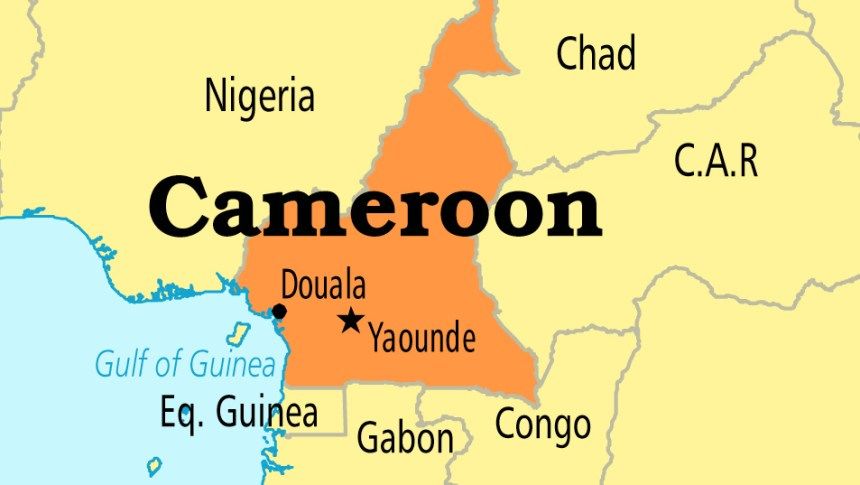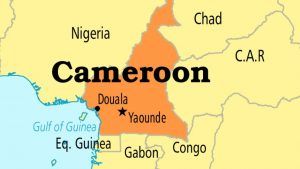 With a population of almost 25 million (2018), Cameroonians represent 240 tribes and three major ethnic groups: Bantus, Semi-Bantus, and Sudanese. Diplomatic relations between the United States and Cameroon were established in 1960 after the African nation gained independence from partial French rule. Cameroon is referred to as Africa in miniature because it seems to encompass a bit of every part of Africa: the culture, climate, cuisine, languages, and dialects. Approximately 33,000 Cameroonian-born people live in the United States with the largest population pockets in the Washington D.C. area.
Foods in Cameroon are regionally based and a plentiful harvest is mostly dependent on climate and geography. A staple indigenous dish is called fufu made from starchy ingredients such as yams. Cassava is also used and is sometimes fermented before being cooked. One method is for it to be wrapped in banana leaves and steamed or fried. French influences are also found in dishes such as prunes stewed in tomatoes along with a very hot pepper usually ground into a paste. A national dish is "bitter leaves" stewed with smoke fish and ground peanut paste. Spinach is often substituted for the bitter leaves in the United States, partly because of the bitterness but also because of the availability.
It is common in Cameroon to stew fish and beef (and other available meats such as pork, chicken, or shrimp) together . . . a taste that does not always fit the American palate. Peanut-based dishes such as chicken in peanut sauce tend to be popular among Americans, but many Cameroonians find chicken in the United States to be soft and "mushy" since they are used to older laying hens.
Many of the ingredients for Cameroonian food are unavailable in the United States so individuals traveling back home frequently bring ingredients back with them, freezing them to save for special occasions. Some ingredients can be obtained from African and other ethnic groceries as well as health food stores, but substitutions are common. Cameroonian Americans tend to be cosmopolitan in their eating habits. There are a number of restaurants serving Cameroonian food in metropolitan areas with large African populations
It is customary to offer damp towels before and after each meal to clean hands, but interestingly most natives eat from a communal bowl. In most cases, meal preparation is very time consuming. Villagers normally cook in iron pots using wooden spoons and over wood or charcoal fires. In some urban areas, canisters of propane are used to power gas stoves. The men serve themselves first while women and children wait. (Check authenticity of this information)!!!!
In the month long observance and celebration of Ramadan, Cameroonian Muslims fast from dawn to dusk. In most regions, a fete des mouton festival is celebrated two months after Ramadan to commemorate Abraham's willingness to sacrifice a sheep from his flock. Christians and non-Christians alike celebrate Christmas bringing to neighborhood and family gatherings their favorite food dishes. Big feasts and elaborate meals are prepared and served for special events such as farewells to those traveling and/or moving abroad; coronations; weddings; and funerals.
Note: In jeopardy – Rising food prices and a lack of accessible food choices puts food cultures and identities at risk.
Cooking Classes
"It's not just info about recipes and menu selections taken from my global travels. It's about a culture known to celebrate life with good food, fine wine, and great music. It's about the unfamiliar culinary artists who want to share something new and tasty and impressive. It's a teaching blog introducing food diversity."